QUALITY MANAGEMENT

Rigor and excellence...

Rigor and excellence are key to the successful realization of a project. SDMS operations are based on an integrated management system (QSE), and are certified by APAVE for ISO 9001–2015 and 14001-2015 standards.
Our team of welders is highly qualified, as are the engineers responsible for codes and reference sources. The company is also notable for the following certifications:
Code and welding expertise

Construction code: CODAP, EN-13445; RCC-MRX, RCC-MX, RCC-M; ASME VIII

Directives in application: ESP (97/23 CE and 2014/08/UE); ESP-N (dated 12/12/2005).

Activities with ionizing radiation in basic nuclear installations (INB)...
Since 2015: CEFRI/SPE-E-0400 index 21
The company has QS and QMOS welding quality qualifications
Thanks to these standards and certifications, SDMS can apply their expertise to 4 major sectors: Aeronautics/Aerospace, Nuclear/Energy, Research and Chemistry.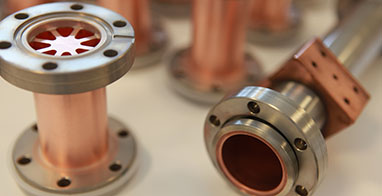 ---
KEY DATES IN THE HISTORY OF SDMS

1968 : First equipment for nuclear research
1993 : Registration of the "La Chaudronnerie Blanche®" trademark
1990 : First Ultra-high vacuum chambers
2007 : CERN "CMS Gold Award" for the cryostat phase separator
2008 : Grenoble Chamber of Commerce and Industry "Croissance" trophy for growth
2009 : European Industrial Excellence Award by INSEAD, WHU, l'Usine Nouvelle and Wirtschaftswoche