OUR EXPERTISE

Specialists in conception and fabrication

---
SDMS La Chaudronnerie Blanche® specializes in the conception and fabrication of high added value metal assemblies. Thanks to very specific expertise, SDMS stands out from the crowd with its capacity to meet carefully determined functional requirements for very diverse and extremely innovative products.

---
TIG MIG plasma welding

More than 800 official welding qualifications
- Manual / automatic TIG-MIG welding
- Orbital TIG welding
- Plasma welding
- Submerged solid wire welding
- Electron beam welding
- Vacuum brazing

Metal assemblies

SDMS uses cutting edge technology on noble metals: mechanical engineering, forming, delicate and complex assembling and welding, machining, vacuum assemblies and treatment,surface treatment, fabrication in clean rooms, non-destructive tests, and associated automatic devices/supervision..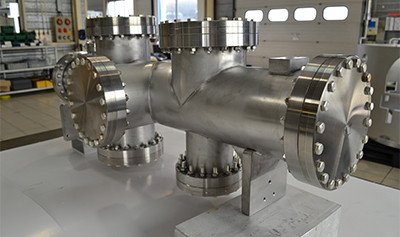 ---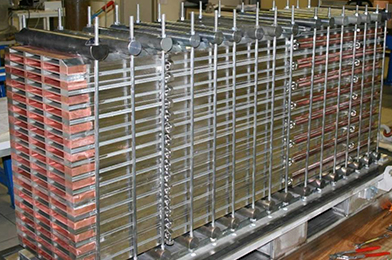 Vacuum assembly

SDMS has extensive experience in heat treatments (volume or surface) and advanced vacuum assemblies (brazing, induction, or diffusion).
The company has specific means for these techniques:
Vacuum brazing furnace: 0.8m3; max. 10-5mbar vacuum at 1,500 °C
Vacuum brazing furnace: 1.5m3; max. 10-5mbar vacuum at 1,300 °C
---
Three-dimensional (3D) testing: 2 Faro arms (scope: 3.2 m, ultimate precision: 0.07mm in clean room); and a Faro laser tracker (scope: 30m, precision: 0.02mm)
Helium leak tests (LT): 2 PFEIFFER helium leak detectors with 10-10mbar.l/s sensitivity; and two INFICON TRANSPECTOR 1 spectrometers with 0-100u and sensitivity 10-14a
Liquid penetrant tests (PT): a reserved workshop area for these operations
X-ray radiographic tests (RT): a nearby isolated bunker equipped with an RX MECASERTO 160KV - 30 mA
Ultrasonic controls (UT): US KRAUTKRAMER 5MHz transducers
---
Vacuum and UHV equipment

SDMS is specialized in integrated vacuum and Ultra-high vacuum systems for the research sector and the space industry. Realizations include: vacuum and UHV chambers, spatial simulation chambers, thermal vacuum chambers, collimators, absorbers, thermal vacuum furnaces, reactors, and cold plasma generation chambers, etc.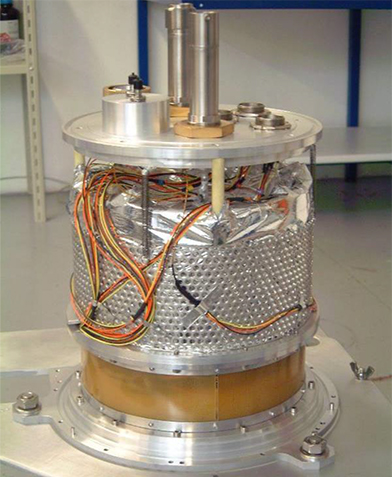 Cryogenic applications

SDMS sizes, designs, and manufactures complete cryogenic systems. Realizations include: cryostats, cryotanks, DEWARS, cryopumps, cryomodules, cryogenic valve boxes, cryogenic transfer lines, siphons and transfer pipes, HTS current leads, cold neutron sources, thermal shields and shrouds, cryogenic electro valves, etc.