SDMS, LA CHAUDRONNERIE BLANCHE®

Rare expertise

Since its creation in 1962, SDMS (Société Dauphinoise de Mécano-Soudure) has constantly developed and refined its expertise. Specialist in machined and welded sheet metal work using noble and rare materials, our teams have expertise in each stage of the production, from conception to on-site installation.
Based in Saint-Romans, between Grenoble and Valence in the Auvergne Rhône-Alpes region, SDMS is a human-sized company with unique expertise and a master craftsman mind-set where passing on knowledge and sharing expertise are fundamental to quality results. In addition to our internal philosophy, we give great importance to our local network of machine tool operators which we have developed over many years.
---
A COMPLETE RANGE OF EXPERTISE

Codes, references sources, an engineering office…important assets

SDMS stands out thanks to its welding expertise, its capacity to manufacture products with or without a reference source, as well as for the quality of our integrated engineering office. Our engineers can verify, test, and develop projects with or without your plans, taking your constraints into consideration.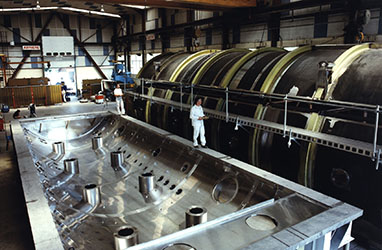 A single point of contact: your project manager

To ensure high-quality service and top reactivity, your project is managed by a single point of contact. This person is the constant intermediary between all the participants in the different stages of the production of your project. This means you can follow the evolution of your project with precision. You are also aware of any determining elements in the progress of your fabrication.
---
SECTORS OF ACTIVITY

With over 50 years of experience, SDMS La Chaudronnerie Blanche® has developed its expertise in 4 sectors.